Customer Reviews
12/23/2020
Jaeden G.
United States
I recommend this product
Best toys ever!
While my dog loves these burrow toys (and Pawlicious & Company has the best selection and fastest shipping) I also have two little Sugar Gliders who love these toys, too. For those not familiar, Gliders will sleep in anything that they can fit into (which is everything) and because I wanted to have their cage dressed up for Christmas, I purchased the Holiday Milk & Cookies for Laurel & Hardy and pinned it to the cage...I'm attaching a photo because...well, it's too cute. So, whether you have a dog who loves to work out puzzles, who likes her treats hidden, or whether you have little monsters like mine who want a new sleeping space, Zippy Paws offers the perfect solution and Pawlicious & Company offers the perfect place to purchase a wide selection of toys!!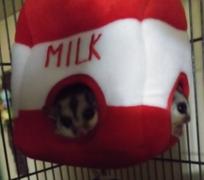 12/23/2020
Pawlicious & Company
Aww, so cute! I can't believe how small they are and both fit in that burrow!